Hailea Chiller HC 500A
₹38,999.00
High-quality titanium evaporator predetermines their use in freshwater and marine aquariums
Digital control panel to set the desired temperature
Timeless design at affordable price
Environment friendly refrigerant R134a
Aquarium size: 500 l
Power consumption: 1/2 HP (375 W)
Recommended pump output: 1 200 – 3 000 l/h
Weight: 22 kg
Dimensions: 475 x 360 x 490 mm
Includes Fittings
In stock
Product Information
Hailea HC chillers have strong metal chassis with a housing of contemporary design,ensuring the chiller does not look out of place in any surroundings. They work almost exactly like mini-refrigerators, and they're incredibly easy to set up and run.
All models are equipped with exchangers in pure titanium, and you can use them in both freshwater and in seawater. The digital display allows the maintenance of constant temperature.
Hailea HC chillers have strong metal chassis, HC series use the environmentally friendly refrigerant R134a. The design ensures low noise, whilst the digital temperature controller ensures that the selected temperature is maintained. The rate of flow is decided according to the max jet of the pump (immersible power filter) and the circulation equipment.
HAILEA HC chillers represent professional approach to aquarium technology!
• large water capacity
• high-quality titanium evaporator predetermines their use in freshwater and marine aquariums
• quiet operation compared to similar products
• digital control panel to set the desired temperature
• timeless design at affordable price
• environment friendly refrigerant R134a
Technical data of the Model: HC-250A
Digital read-out (precise to 0,1°C increments)
New more robust design for longer life
Lowered noise output quieter than a standard refrigerator
Suitable for continuous operation
Auto restart after power outage
Refrigerant R134a
Titanium heat exchanger
Aquarium size: 500 l
Power consumption: 1/2 HP (375 W)
Recommended pump output: 1 200 – 3 000 l/h
Weight: 22 kg
Dimensions: 475 x 360 x 490 mm
How to Use the Hailea Nutrient Chiller;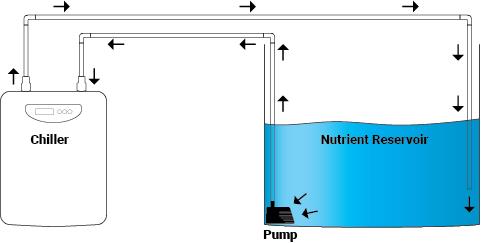 Setting up chiller kits is quick and easy. The diagram to the above gives you an overview of how they're constructed.
You'll need to connect the pump to the chiller's inlet using a length of pipe and connect another length of pipe to the chiller's outlet. Be sure to secure everything in place with the supplied hose clips.
The chiller should be cleaned after each crop to remove any mineral deposits and limescale. Just fill the chiller with clear pickling vinegar, leave for 24 hours, and then flush it with water. Ensure that you also set up an air circulator fan near the chiller to avoid any heat build-up.
Only logged in customers who have purchased this product may leave a review.
Shipping & Returns
We deliver all over India. For full details of the delivery options we offer, please view our Delivery information
We hope you'll love every purchase, but if you ever need to return an item you can do so within a stipulated time of receipt which may vary from product to product. For full details of how to make a return, please view our Returns information